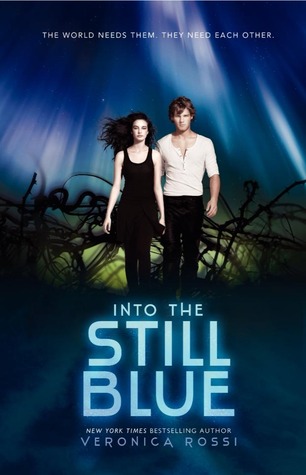 Author:
Veronica Rossi
Series:
Under the Never Sky
#3
Publication: January 28, 2014
Source: Purchased
Summary from Goodreads: The race to the Still Blue has reached a stalemate. Aria and Perry are determined to find this last safe haven from the Aether storms before Sable and Hess do—and they are just as determined to stay together.
Within the confines of a cave they're using as a makeshift refuge, they struggle to reconcile their people, Dwellers and Outsiders, who are united only in their hatred of their desperate situation. Meanwhile, time is running out to rescue Cinder, who was abducted by Hess and Sable for his unique abilities. Then Roar arrives in a grief-stricken fury, endangering all with his need for revenge.
Out of options, Perry and Aria assemble an unlikely team for an impossible rescue mission. Cinder isn't just the key to unlocking the Still Blue and their only hope for survival--he's also their friend. And in a dying world, the bonds between people are what matter most.
In this final book in her earth-shattering Under the Never Sky trilogy, Veronica Rossi raises the stakes to their absolute limit and brings her epic love story to an unforgettable close.
Review:
This conclusive book wraps up the series really well. There was a bit of drama at the beginning that was difficult to sift through, the characters do things that kind of annoyed me, however everything fell into place and worked itself out. Things in this book are heading in a clear direction, I thought things would be predictable, but Veronica Rossi surprised me with a twist here and there. I loved the character development and the development in the relationships between characters. The action was excellent and the pacing really worked. I didn't want to put it down and I didn't want the book to end. The ending was satisfying, which is a pretty big compliment coming from me, since I am usually disappointed at the end of a series. All that being said, I'd love to see what happens to Aria and Perry from here, but this is the end of the series.