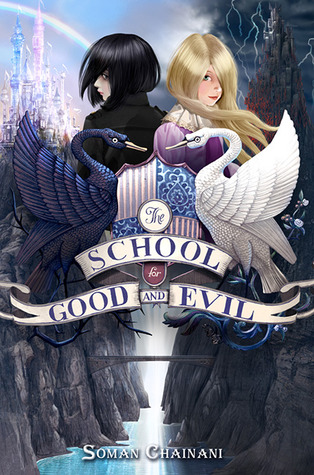 Author:
Soman Chainani
Series:
The School for Good and Evil #1
Publication Date:
May 14, 2013
Source:
Purchased (at the
Boston Book Festival
)
Summary from Goodreads: The first kidnappings happened two hundred years before. Some years it was two boys taken, some years two girls, sometimes one of each. But if at first the choices seemed random, soon the pattern became clear. One was always beautiful and good, the child every parent wanted as their own. The other was homely and odd, an outcast from birth. An opposing pair, plucked from youth and spirited away.This year, best friends Sophie and Agatha are about to discover where all the lost children go: the fabled School for Good & Evil, where ordinary boys and girls are trained to be fairy tale heroes and villains. As the most beautiful girl in Gavaldon, Sophie has dreamed of being kidnapped into an enchanted world her whole life. With her pink dresses, glass slippers, and devotion to good deeds, she knows she'll earn top marks at the School for Good and graduate a storybook princess. Meanwhile Agatha, with her shapeless black frocks, wicked pet cat, and dislike of nearly everyone, seems a natural fit for the School for Evil.
But when the two girls are swept into the Endless Woods, they find their fortunes reversed—Sophie's dumped in the School for Evil to take Uglification, Death Curses, and Henchmen Training, while Agatha finds herself in the School For Good, thrust amongst handsome princes and fair maidens for classes in Princess Etiquette and Animal Communication.. But what if the mistake is actually the first clue to discovering who Sophie and Agatha really are…?
The School for Good & Evil is an epic journey into a dazzling new world, where the only way out of a fairy tale is to live through one.
I love the concept and setting of this book. Children who are kidnapped, taught at a school to be good or evil and end up in a fairy tale? The beginning of this book does an excellent job of setting the scene and drawing you in slowly, like quicksand I didn't realize I was immersed until it was too late and I was sucked in.
The characters are extremely well developed. Sophie and Agatha (the two main characters) are amazingly well developed . The supporting characters were perfect for their roles as supporters, we knew enough about them to distinguish between them and understand them, but they never overpowered or overshadowed the main characters.When I attended Boston Book Festival and heard Soman Chainani speak about this book, I was immediately interested because he talked a lot about the idea of female villainity (and I am partial to female villains). He did a spectacular job developing this idea throughout the book.
The book moves at an excellent pace; before I knew it, it was 1 am and I was halfway through the book. I loved the classes that the students took at the school. There are a lot of thematic elements in this book as well as some stereotype bending. There were so many times that I stopped for a moment and thought to myself, "hmm that would be an interesting thing to discuss". I wish I wrote them down. I could easily see this book being used in school because it is fun and interesting to read, but has so much potential to teach.
The book is not without its flaws, there were two glaring things that stood out to me, and knocked this down from 5 stars to 4. While it is a book about friendship, I did not believe that Sophie and Agatha were best friends, however I enjoyed seeing their friendship grow. I also found the role of the adults to be somewhat questionable.
It's a middle grade fantasy fairy tale spin off, but it can easily be enjoyed by any age group. I will be starting book two ASAP!