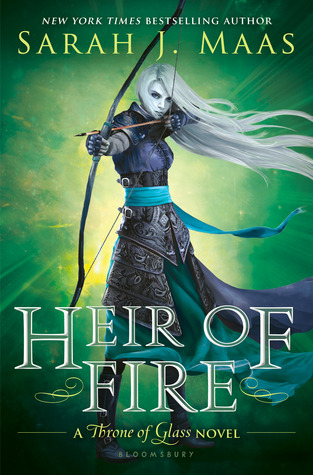 Author:
Sarah J Maas
Series:
Throne of Glass #3
Publication Date:
September 2, 2014
Source:
Purchased
Amazon
|
B&N
|
Book Depository
Summary from Goodreads: She was the heir of ash and fire, and she would bow to no one.Celaena Sardothien has survived deadly contests and shattering heartbreak—but at an unspeakable cost. Now she must travel to a new land to confront her darkest truth...a truth about her heritage that could change her life—and her future—forever.
Meanwhile, brutal and monstrous forces are gathering on the horizon, intent on enslaving her world. To defeat them, Celaena must find the strength to not only fight her inner demons but to battle the evil that is about to be unleashed.
The king's assassin takes on an even greater destiny and burns brighter than ever before in this follow-up to the New York Times bestselling Crown of Midnight.
So, most of this review is a restatement of
my first review
.
While I was blown away by this book for the second time, I think the thing that stood out to me the most as Celaena. I can't believe how much she grows into herself; her essence remained the same, but she grew and developed into a stronger, more bad-ass version of herself. While Celaena obviously experiences the most growth, the other characters also experience a lot of growth and have challenges to overcome. Again, I feel like I can't believe that I missed so many revelations of certain characters' true colors. The new characters were perfection. I wish I could talk more about them without giving away spoilers. I mean there is the obvious addition who I love to whatever end (see what I did there?) but there are also the minor characters who I love and think had a specific influence on Celaena and I hope they appear in future books. I wasn't crazy about the witches, to be honest I usually took a little break whenever got to their portion of the story,but again, I can feel their importance.
I loved the plot of this book and feel like we learned a lot about the world that Celaena lives in. There is a heavier influence of fantasy elements in this book; given that this is my second time reading the books, I felt like this was the direction the series was meant to move in. I am also so grateful that we finally get the whole story about what happened 10 years ago. I am just blown away by the intricate weaving of details - I am amazed by Sarah J Maas' ability to write such a complex series.