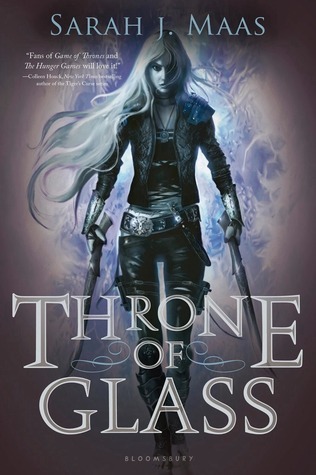 Author:
Sarah J Maas
Series:
Throne of Glass #1
Publication Date:
May 7, 2013
Source:
Purchased
Amazon
|
B&N
|
Book Depository
Summary from Goodreads: In a land without magic, where the king rules with an iron hand, an assassin is summoned to the castle. She comes not to kill the king, but to win her freedom. If she defeats twenty-three killers, thieves, and warriors in a competition, she is released from prison to serve as the king's champion. Her name is Celaena Sardothien.
The Crown Prince will provoke her. The Captain of the Guard will protect her. But something evil dwells in the castle of glass--and it's there to kill. When her competitors start dying one by one, Celaena's fight for freedom becomes a fight for survival, and a desperate quest to root out the evil before it destroys her world.
I loved this book just as much, if not more, the second time around. As with the first time I read this book, I immediately liked Celaena. She is fierce, strong, and flawed. There are times where I felt like she truly was an 18 year old girl and there were times that I felt like maybe she was older, but I felt like given her history this inconsistent behavior would be expected of any real person who lived Celaena's life. A lot of readers dislike Celaena because she knows she is beautiful, I actually find this refreshing about her. I love that she is who she is and doesn't apologize for it. The other key characters are fabulous. Dorien is a well developed character with lots of room for growth. You can't help but enjoy his company. Chaol is broody and difficult to read, but he is intriguing and totally the guy I would fall for if he was real. I loved Nehemia so much more with this read, she is interesting and her friendship is touching.
It has been quite a while since I read this book the first time around, I honestly couldn't believe how much I had forgotten about the plot. The plot moves at an excellent pace and has all the required elements to be a fabulous fantasy.
I also picked up on SO many details I missed the first read through that were immensely important for the books that follow. I couldn't believe how many hints were dropped early in the series. I highly recommend rereading the books!