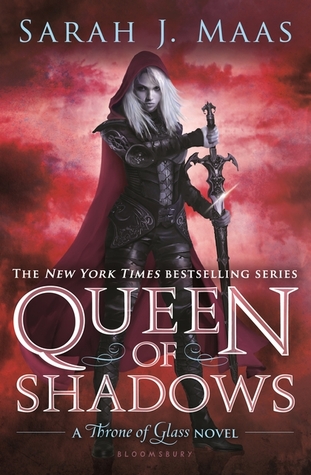 Author:
Sarah J Maas
Series:
Throne of Glass #4
Publication Date:
September 1. 2015
Source:
Purchased
Amazon
|
B&N
|
Book Depository
Summary from Goodreads: The queen has returned.Everyone Celaena Sardothien loves has been taken from her. But she's at last returned to the empire—for vengeance, to rescue her once-glorious kingdom, and to confront the shadows of her past . . .
She has embraced her identity as Aelin Galathynius, Queen of Terrasen. But before she can reclaim her throne, she must fight.
She will fight for her cousin, a warrior prepared to die for her. She will fight for her friend, a young man trapped in an unspeakable prison. And she will fight for her people, enslaved to a brutal king and awaiting their lost queen's triumphant return.
The fourth volume in the New York Times bestselling series continues Celaena's epic journey and builds to a passionate, agonizing crescendo that might just shatter her world.
Warning there may be SPOILERS for the first 3 books in the series!
I LOVE this series - it took me several days to sit down and write this review simply because I had so many feelings and thoughts to sort through.
When I started this book, I had an idea of where things were going to go, I mean it was pretty clear at the end of the last book, but somehow I was blown away. Plot twists, plot twists, plot twists - how does one human come up with and effortlessly execute so many plot twists?! Everything comes together - all those tiny, intricate details from the first three books start coming together in an unimaginable way. I am so glad that I reread the first three books before reading this one, and I highly recommend that you do the same.
Celaena has grown into a powerful woman, I honestly didn't think she had any growth left, and yet, we see her grow into s couple new roles. While Dorian and Choal are present in this book, they have also changed quite a bit. It broke my heart to see the differences between the three members of this once tight knit crew, but I trusted Maas and I do feel like she is doing all the right things as the author in order to tell the story that needs to be told. (And I know a lot of team Choal readers are upset that that ship has not only sailed but has sunk, but after rereading the series, I have to tell you that I am not suprised and I feel like Maas was true to her characters). Rowan's presence is not as strong as I would have liked it to be, I am totally team Rowan and have been from his introduction. (Sidebar - I just want to point out that I LOVE the fact that Maas has chosen to let Celaena have multiple relationships in a naturally healthy way AND that she avoids instalove) I loved that Lysandra returned in this book, the development with her character is interesting and much needed.
While I was not a fan of Manon, I did find that I enjoyed her chapters much more in this book than the previous and she is starting to grow on me. I enjoyed getting to know Manon and her Thirteen better, especially Asterin. I was really, really interested with what was going on over there in Morath with Kaltain and Elide too.
This book had me going through SO many emotions. I felt like the plot moved at a good pace; there were some slow parts with lots of important information, and most of the action is at the end, but it worked for me. The ending is torturous simply because I must wait for the next installment!