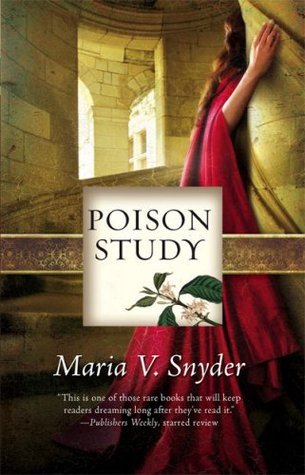 Author: Maria V Snyder
Series:
Study
#1
Publication Date:
October 1, 2005
Source:
Purchased
Goodreads | Amazon | B&N | Book Depository
Summary from Goodreads: Choose: A quick death…Or slow poison...About to be executed for murder, Yelena is offered an extraordinary reprieve. She'll eat the best meals, have rooms in the palace—and risk assassination by anyone trying to kill the Commander of Ixia.
And so Yelena chooses to become a food taster. But the chief of security, leaving nothing to chance, deliberately feeds her Butterfly's Dust—and only by appearing for her daily antidote will she delay an agonizing death from the poison.
As Yelena tries to escape her new dilemma, disasters keep mounting. Rebels plot to seize Ixia and Yelena develops magical powers she can't control. Her life is threatened again and choices must be made. But this time the outcomes aren't so clear...
This book has been on my
Goodreads TBR shelf
since my first day on the site in 2012! Since I have been in a reading/blogging slump, I went into this book without reading the summary, so I didn't exactly remember what I was in for.
At first I thought the book had a clear cut plot - Yelena is the Commader's new food taster. I had no idea that the book would flesh out in so many directions: magic, political elements and a subplot. I was pleasantly surprised and loved every minute.
I liked Yelena - she is strong and smart, but not overly cocky. I particularly liked her survival instinct and her personal growth. Her back story was interesting and I really liked the way it revealed to the reader. The book is told from Yelena's perspective which I think helped me connect to her so instantaneously.
Valek, is easily on of my favorite male characters. He is deep, reserved, and dedicated. I loved Rand and felt like he was exactly what I expected in a chef and D was exactly what I expected for a seamstress. The Commander surprised me - I am still not sure if we truly know him yet.
The world building was phenomenal. I felt like I was given information as it was needed for the story - there were NO info dumps. Considering the fact that this book was more complex than I initially thought, the world building was really well done.
The romance was well done, initially not obvious and once it was clear it was a slow build. The plot was pretty thick and the multiple layers to the story really kept me guessing.