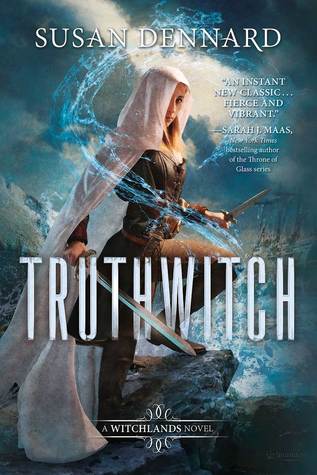 Author: Susan Dennard
Series:
Witchlands #1
Publication Date:
January 5, 2016
Source:
Purchased
Amazon | B&N | Book Depository
Summary from Goodreads: In a continent on the edge of war, two witches hold its fate in their hands.
Young witches Safiya and Iseult have a habit of finding trouble. After clashing with a powerful Guildmaster and his ruthless Bloodwitch bodyguard, the friends are forced to flee their home.
Safi must avoid capture at all costs as she's a rare Truthwitch, able to discern truth from lies. Many would kill for her magic, so Safi must keep it hidden - lest she be used in the struggle between empires. And Iseult's true powers are hidden even from herself.
In a chance encounter at Court, Safi meets Prince Merik and makes him a reluctant ally. However, his help may not slow down the Bloodwitch now hot on the girls' heels. All Safi and Iseult want is their freedom, but danger lies ahead. With war coming, treaties breaking and a magical contagion sweeping the land, the friends will have to fight emperors and mercenaries alike. For some will stop at nothing to get their hands on a Truthwitch.
Witch books are typically hit or miss for me; I am happy to say that Truthwitch was a hit. This book started out exciting and really held my interest. It was one of those books that made me look forward to going to bed early just so I could read it. The world building was great, I could easily envision where we were. I did struggle a teeny tiny bit with understanding some of the terms and the magic system, but that didn't take away from my enjoyment of the book.
I LOVED the characters! They are extremely well done, not only the main characters and secondary characters, but even the supporting characters. I felt like they were real people with real personalities. I also loved seeing the growth of certain characters – this felt genuine, like they are still themselves but have grown into better versions of themselves.
The relationships in this book are probably my favorite. I mean it's a book about Threadsisters (which I like to think of as the best friends that are as close as sisters and even sort of soul mates). I LOVE LOVE LOVE that this book focused on a positive female friendship – it was beautiful. There are also Threadbrothers – and I loved seeing just how deep this thread-person bond was. There was some romance, I personally loved seeing the power of heartthreads with Ryber and Kullen. I am definitely looking forward to the development of a certain romance in the second book.
Typical to fantasy books, there is an epic journey with lots of action. I absolutely loved it! This was the perfect dose of the thrill when you ride a rollercoaster and edge of your seat suspense in a movie. It was perfection. There is a dash of political turmoil too.
This book was everything I love about a good book and I can't wait for
Windwitch
!