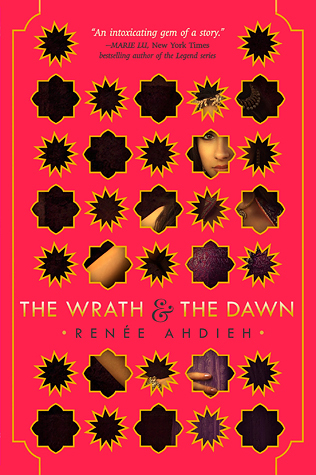 Author: Renee Ahdieh
Series:
The Wrath and The Dawn
#1
Publication Date:
May 12, 2015
Source:
Purchased (
Boston Teen Author Festival
)
Amazon
|
B&N
|
Book Depository
Summary from Goodreads: One Life to One Dawn.
In a land ruled by a murderous boy-king, each dawn brings heartache to a new family. Khalid, the eighteen-year-old Caliph of Khorasan, is a monster. Each night he takes a new bride only to have a silk cord wrapped around her throat come morning. When sixteen-year-old Shahrzad's dearest friend falls victim to Khalid, Shahrzad vows vengeance and volunteers to be his next bride. Shahrzad is determined not only to stay alive, but to end the caliph's reign of terror once and for all.
Night after night, Shahrzad beguiles Khalid, weaving stories that enchant, ensuring her survival, though she knows each dawn could be her last. But something she never expected begins to happen: Khalid is nothing like what she'd imagined him to be. This monster is a boy with a tormented heart. Incredibly, Shahrzad finds herself falling in love. How is this possible? It's an unforgivable betrayal. Still, Shahrzad has come to understand all is not as it seems in this palace of marble and stone. She resolves to uncover whatever secrets lurk and, despite her love, be ready to take Khalid's life as retribution for the many lives he's stolen. Can their love survive this world of stories and secrets?
Inspired by A Thousand and One Nights, The Wrath and the Dawn is a sumptuous and enthralling read from beginning to end.
The quick and dirty review: loved it, couldn't put it down, left me wanting more.
Retellings are really in right now, and I was immediately drawn to
The Wrath and the Dawn
because it was totally unique. I was quickly drawn into this story. I liked Shahrzad right away and was rooting for her to exact her vengeance. I loved how brash and unafraid she was to be herself. The characters are well done, I was especially impressed by the supporting characters. The romance was angsty, in a slow burn kind of way. I swooned a bit. The plot moved at a decent pace; occasionally the perspective switch bugged me, but I think that was because I was SO interested in Shahrzad's storyline that I found Traiq's storyline to be distracting. The magic was a bit lackluster, it almost felt tossed in as an after thought or like it was written in after the author decided to write the sequel. The writing was beautiful and I was so wrapped up in it that I couldn't wait to pick it up every night before bed. I totally recommend it!