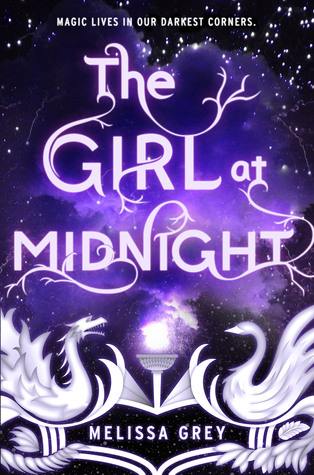 Author:
Melissa Grey
Series:
The Girl at Midnight #1
Publication Date:
April 28, 2015
Source:
Netgalley
Summary from Goodreads: Beneath the streets of New York City live the Avicen, an ancient race of people with feathers for hair and magic running through their veins. Age-old enchantments keep them hidden from humans. All but one. Echo is a runaway pickpocket who survives by selling stolen treasures on the black market, and the Avicen are the only family she's ever known.
Echo is clever and daring, and at times she can be brash, but above all else she's fiercely loyal. So when a centuries-old war crests on the borders of her home, she decides it's time to act.
Legend has it that there is a way to end the conflict once and for all: find the Firebird, a mythical entity believed to possess power the likes of which the world has never seen. It will be no easy task, though if life as a thief has taught Echo anything, it's how to hunt down what she wants . . . and how to take it.
But some jobs aren't as straightforward as they seem. And this one might just set the world on fire.
I really enjoyed this book. I felt like I had been transported into a magical version of our world. The writing was beautifully descriptive, making it effortless to envision everything. I felt sucked in and struggled to put it down and when I did, I couldn't stop thinking about picking it back up.
I loved the characters, Echo is a badass with a tender heart, she is instantly likeable and consistent. Without giving too much away, I will say that every member of her motley crew holds a special place in my heart. Echo's journey drives the plot. Typically with fantasy novels about a journey I get bored and find that the destinations/encounters feel forced, but that was not the case. The journey was a decent length and felt purposeful. There was some heavy foreshadowing that sort of took away from the climax.
So, why did I give it 4 stars instead of 5? I felt like I needed a better understanding about the Avicen and Drakharin and would have appreciated more information about their history. I also felt like the romance piece of the story was a bit predictable. But all in all, I enjoyed it and definitely plan to continue the series.