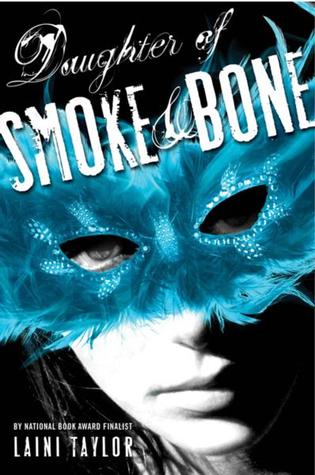 Author:
Laini Taylor
Series:
Daughter of Smoke and Bone
#1
Publication Date:
September 27, 2011
Source:
Purchased
Summary from Goodreads: Around the world, black handprints are appearing on doorways, scorched there by winged strangers who have crept through a slit in the sky.
In a dark and dusty shop, a devil's supply of human teeth grows dangerously low.
And in the tangled lanes of Prague, a young art student is about to be caught up in a brutal otherwordly war.
Meet Karou. She fills her sketchbooks with monsters that may or may not be real, she's prone to disappearing on mysterious "errands", she speaks many languages - not all of them human - and her bright blue hair actuallygrows out of her head that color. Who is she? That is the question that haunts her, and she's about to find out.
When beautiful, haunted Akiva fixes fiery eyes on her in an alley in Marrakesh, the result is blood and starlight, secrets unveiled, and a star-crossed love whose roots drink deep of a violent past. But will Karou live to regret learning the truth about herself?
I was initially drawn to this book because of its stunning cover, but I was hesitant because I found out that it had to do with angels and devils and I typically can't stand those types of books. But, the othersbooks in the series got quite a bit of hype in the blogosphere and I spotted this at a used bookstore at a reasonable price.
My initial thought when I started reading this book was: "Wow, this is really easy to read". I have no idea what it is about the author's style, but it truly was a breeze to read - and it is not low level reading, just well written I guess. The next thing that stuck out to me about the author's style was how the chapters were titled based on something within each chapter - yes I know that is typical, but the way she did it was really unique.
So, onto the review...
Like I said I breezed through this book, I enjoyed it, I found myself drawn to it before going to sleep at night. The world building is well done, I have officially added Prague to must must visit list. I was intrigued by Karou's life and her role within her monstrous family, especially her relationship with Brimstone. I wanted to know about the teeth and the errands. I wanted to know who Karou was just about as much as she wanted to know who she was. And then Akiva slammed his way into the story and I was fascinated by him. The plot moves at an excellent pace and peppers you with questions along the way. And then questions are answered in the most tantalizing way. It was really well done. I loved the big reveal, but wasn't entirely surprised by it. The ending of the book felt complete to me, but there is clearly an openness for a sequel.