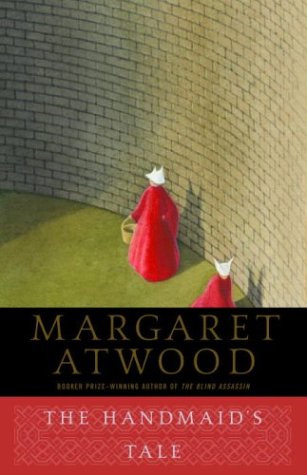 Author:
Margaret Atwood
Publication Date:
March 16, 1998
Source:
Gifted via
Books n Bloggers Swap
Summary from Goodreads: Offred is a Handmaid in the Republic of Gilead. She may leave the home of the Commander and his wife once a day to walk to food markets whose signs are now pictures instead of words because women are no longer allowed to read. She must lie on her back once a month and pray that the Commander makes her pregnant, because in an age of declining births, Offred and the other Handmaids are valued only if their ovaries are viable. Offred can remember the years before, when she lived and made love with her husband, Luke; when she played with and protected her daughter; when she had a job, money of her own, and access to knowledge. But all of that is gone now...
This book had been on my to read list for a really long time - it sounded like something that was right up my alley, but I just can't continue reading it. The first thing I noticed was a unique writing style, it feels like the main character, Offred, is talking directly to the reader. Normally, I would love this, but the author does not use quotation marks, which made conversations extremely confusing. I also found Offred to be a bit boring. The other major issue I had with the writing style is the frequent switch between past and present. Usually this non-linear style does not bother me, but the transitions were unclear and confusing. I also struggled with the purpose of these switches, I'm sure the author felt that there was something happening in the present to jog Offred's memory, but that connection was not always clear. Finally, I felt that about halfway through the book NOTHING happened, like there was no plot. And then there was a scene that felt like it was included solely for the shock factor, and the way it was told felt so unlike the character that it just didn't work. I preserved, hoping to learn more about the world Offred lives in, hoping to learn more about her and how she got where she was, but I just can't suffer through it anymore.