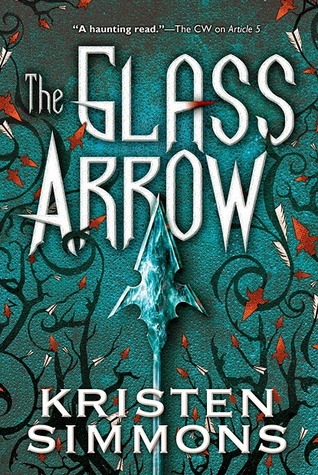 Author:
Kristen Simmons
Publication Date: February 10, 2015
Source: Purchased
Summary from Goodreads: The Handmaid's Tale meets Blood Red Road in Glass Arrow, the story of Aya, who lives with a small group of women on the run from the men who hunt them, men who want to auction off breeding rights to the highest bidder.
In a world where females are scarce and are hunted, then bought and sold at market for their breeding rights, 15-year old Aya has learned how to hide. With a ragtag bunch of other women and girls, she has successfully avoided capture and eked out a nomadic but free existence in the mountains. But when Aya's luck runs out and she's caught by a group of businessmen on a hunting expedition, fighting to survive takes on a whole new meaning.
I LOVE that this book started with action right away, I really feel like when authors successfully do this, I am hooked. The world building in this book was terrific. It is an interesting world, the author has clearly drawn from many resources, but she has created something totally unique and terrifying. While the book took off running, it did slow down a bit, but it felt purposeful. Aya is an amazingly well developed character; she is wild, tough, and true to herself. I loved her friendship with Kiran, it was surprising and interesting. The ending was perfection.