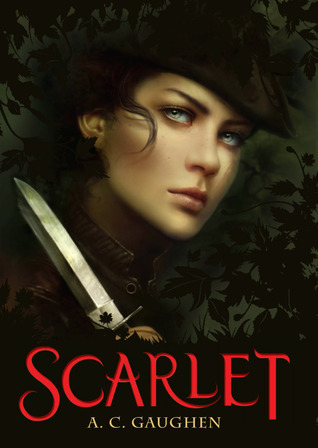 Author:
A.C. Gaughen
Series:
Scarlet #1
Publication Date:
February 14, 2012
Source:
Purchased
Summary from Goodreads: Will Scarlet is good at two things: stealing from the rich and keeping secrets - skills that are in high demand in Robin Hood's band of thieves, who protect the people of Nottingham from the evil sheriff. Scarlet's biggest secret of all is one only Robin and his men know...that she is posing as a thief; that the slip of a boy who is fast with sharp knives is really a girl. The terrible events in her past that led Scarlet to hide her real identity are in danger of being exposed when the thief taker Lord Gisbourne arrives in town to rid Nottingham of the Hood and his men once and for all. As Gisbourne closes in a put innocent lives at risk, Scarlet must decide how much the people of Nottingham mean to her, especially John Little, a flirtatious fellow outlaw, and Robin, whose quick smiles have the rare power to unsettle her. There is real honor among these thieves and so much more - making this a fight worth dying for.
This book has been on my must read list for a while now (probably since 2012 when it was published); I mean look at that cover and there is something fascinating about Robin Hood's story and I was intrigued by the twist presented in the summary.
It's summer vacation and I finally had some time to myself to read and I was HOOKED, like literally did not want to put this book down.
This book is everything you could want is a fantasy retelling: action, adventure, romance, friendship and so much more. The story is told through Will Scarlet's voice and she has a unique way of with words. At first I was hesitant that this writing style wouldn't work for me, but I quickly learned that it was an essential piece of who Scarlet was and it really helped me to connect with her.
The characters are well developed and consistent. Scarlet is a strong, brave, yet vulnerable young woman, and I immediately loved her. I truly feel that the author has created the perfect character for young girls - she screams girl power in a wonderful and inspiring way. Robin is ::sigh::, how can you not lust after such a heroic outlaw. John Little and Much, the other members of the band, are perfect characters to round out the group. The townsfolk are even well developed.
The plot moves at an excellent pace. The action really drives everything forward and it was thrilling heart pumping kind of action. The romance builds painfully slow in a good way. I couldn't help but feel wrapped up in it. Like I said, I couldn't put this book down.
I finished this book around 2 am and immediately purchased the next book in the series: Lady Thief, because YES it was THAT GOOD.