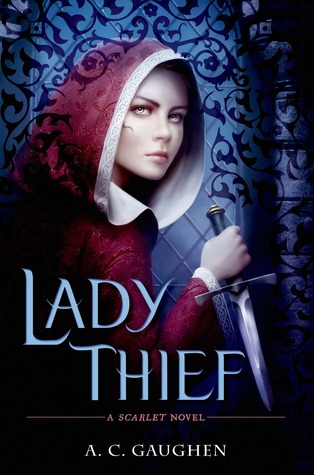 Author:
A.C. Gaughen
Series:
Scarlet
#2
Publication Date:
February 11, 2014
Source:
Purchased
Summary from Goodreads: Scarlet's true identity has been revealed, but her future is uncertain. Her forced marriage to Lord Gisbourne threatens Robin and Scarlet's love, and as the royal court descends upon Nottingham for the appointment of a new Sheriff, the people of Nottingham hope that Prince John will appoint their beloved Robin Hood. But Prince John has different plans for Nottingham that revolve around a fateful secret from Scarlet's past even she isn't yet aware of. Forced to participate at court alongside her ruthless husband, Scarlet must bide her time and act the part of a noblewoman—a worthy sacrifice if it means helping Robin's cause and a chance at a future with the man she loves. With a fresh line of intrigue and as much passion as ever, the next chapter in Scarlet's tale will have readers talking once again.
This book picks up just about where the first left off, however it is a fast paced, emotional, and bumpy ride. I felt like my heart had been ripped out of my chest when Scarlet married Gisbourne, but I remained hopelessly hopeful that the deep bond shared between Scarlet and Robin would persevere.
The characters remain true to who they were in the previous book so basically they are amazing! To be fair, I think we see more strength and bravery in this novel from Robin's band, but we also see a different side of strength and bravery. The bad guys are detestable and it really just solidifies your love for the main characters.
Typically, I'm not one to enjoy historical fiction, but I found this book to be a perfect balance. It sprinkled enough history to give you an understanding of the time, place, and circumstances. It transports you to this moment in time. But it is never overbearing or boring.
The action is fabulously written. Your heart will race as if you are in the thick of it all. The relationships are complex and will overwhelm you with feelings in all the right ways.