The purpose of this post is to have a discussion.I am not trying to call anyone in particular out and not looking to cause trouble.I understand that we all have different opinions and I hope that we can have a healthy and respectful discussion.
I recently attended my fourth book event. Each event has been completely different - different locations, different number of authors, and different size events. Being a blogger from a somewhat small blog I am always a little nervous attending these events, but always super excited.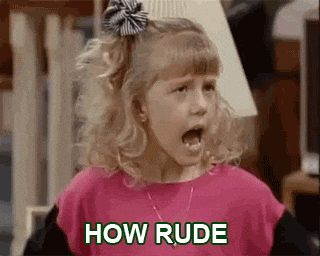 At the two larger events, there were a few things that struck me about
etiquette
at these events. The biggest thing that I noticed was that there were
several
people at these events with
multiple bags
of books to be signed by authors at these events. At the most recent event I went to, I saw at least five people with three bags filled! Like busting at the seems filled. I get it, these bloggers have multiple collections of these authors books (ARCs, US, UK, etc), and they LOVE these authors; and to be honest they are lucky to have so many books. I also know that a lot of times, bloggers like to have extra copies signed in order to host giveaways on their blogs. But looking at the crazy long lines, I felt completely annoyed. I felt like these bloggers were monopolizing author time and being really inconsiderate of the rest of the people attending the event. I find it particularly annoying and rude when there is a time limit on the book signing.
On the other hand, there is almost always a book seller at these event, usually a small, locally owned business. I personally feel obligated to buy books at these events because I like to support local businesses. Again, when I see people walking in with 3 bags of books and no intention of making a purchase, I feel annoyed, kind of feel like they are stiffing the book seller and the host of the event.
So, I am curious what are your thoughts about etiquette in terms of bringing a large number of books
to these events? Have you experienced this, if so how does it make you feel? Or, are you one of the bloggers who does this and has a different perspective to add to the conversation?