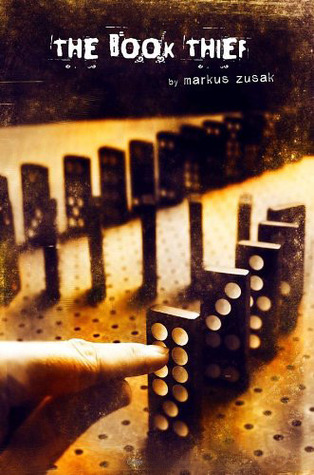 Author: Mark Zusak
Publication Date:
March 14, 2006
Source:
Gift
Amazon
|
B&N
|
Book Depository
Summary from Goodreads: It's just a small story really, about among other things: a girl, some words, an accordionist, some fanatical Germans, a Jewish fist-fighter, and quite a lot of thievery. . . .
Set during World War II in Germany, Markus Zusak's groundbreaking new novel is the story of Liesel Meminger, a foster girl living outside of Munich. Liesel scratches out a meager existence for herself by stealing when she encounters something she can't resist–books. With the help of her accordion-playing foster father, she learns to read and shares her stolen books with her neighbors during bombing raids as well as with the Jewish man hidden in her basement before he is marched to Dachau.
This is an unforgettable story about the ability of books to feed the soul.
The very first thing I noticed while reading this book was that I enjoyed the narrator's voice. I loved that the story is told by Death, it feels fitting given the content, and it gave the book a unique spin. I also felt like this version of Death was approachable. The set up of the book is unique and Death tends to give away the ending, but it works.
I immediately liked Liesel and was saddened by her circumstances. I felt like this book did an excellent job portraying what life was like for a family living in Germany during World War II. I also loved the story of how they ended up with a Jewish man in their basement, this really made it feel real for me. I loved Liesel's step-father, he honestly seems like such a good man. I also liked several of the other secondary characters, they were all well developed.
The story moves somewhat slowly, but for some reason that never bothered me. I loved getting to know the characters and following them along. I loved the discussion on the power of words and the discussion and use of Hitler's Mein Kampf in the story. I felt like the author was trying to not only tell a story of a girl, her family, and the Jewish man they let live in their basement, but he was also trying to provide a platform for a discussion.
It's an emotional read, not necessarily a happy ending, but the ending did feel right to me.